Myron R. Ferguson 
Drywall Tools, Materials, and Techniques have changed a lot over the years.                        
When I put on clinics I often mention that 20 years ago I could go into a drywall supply yard and order a box of corner bead and the guy would go in the back and get me a box of corner bead. Nowadays ordering bead can be just as or more complicated than ordering a cup of coffee at one of those specialty stores.  The corner beads of the past were just made for corner protection. Nowadays they offer much more. Drywall corner beads have become my specialty. I use them do decorate those plain surfaces between doors and windows. When most people think of ways to dress up their home the first thought may not be to ask the drywall contractor  about upgrades but instead……
Think of some special window and door casings
Go for the extra exotic floor tile
Faux painting
Wood crown moldings
May also think of asking the trim carpenter to build some wainscoting
Install a chair rail
Maybe that tray ceiling in the master bedroom
I read somewhere that if a contractor offered a free $10,000 upgrade to their new home the number one request was for a better kitchen. I know a solid surface countertop can use up to $10,000 right away.  I don't remember what else was on the list, but I do know that decorative drywall was not on the list. Maybe people don't know about the options available, (which are endless); maybe the general contractor prefers to use more traditional methods done by finish carpenters.   Doing decorative drywall is speciality that I offer in my drywall business. I am able to offer these upgrades at a very reasonable cost and I am using up a lot of scrap drywall in the process. The beads I used on the photos shown below were made by Trim-Tex and are made with at least 70% recycled content.  As you will see it is easy to turn a modest home into an elegant showpiece just by using drywall products.
 Examples :
DINNING ROOM CEILING: size: 10' by 10'.
I usually charge $12.00 a lineal foot for this type of ceiling. 40 X 12 = $480.00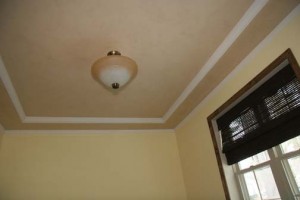 Materials:
scrap drywall equivalent to about 50 sq ft.
2 x 4's used to fur ceiling—2 8' and 2 10′
Beads Used: 1 ½" Step A Bull: Qty of 4 -8' lengths: 350 bull L bead: qty of 4 – 10' pieces; Cost $23.00
Labor to fur, hang drywall, cut and attach beads, tape and sand= 6 hours
In addition applied a venetian plaster about 100 sq ft at $12.00 a sq ft = $1,200.00
 A formal dining room should have an elegant look.  This room was pretty small so I really wanted to dress it up.  In order to accomplish this, the ceiling was only lowe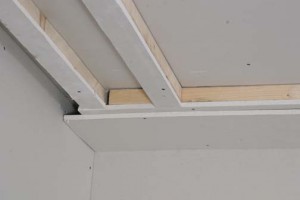 red 2 ½ inches.
To achieve this two layers of drywall were used over the 1- ½ inch furring.  The first layer was just drywall strips. I made mockups of different designs for the ceiling to show options to the customer. We wanted to match the milled look of the archways. The customer chose the 1 ½" Step A Bull bead which gave the edge the look of more depth and I was still able to only lower the ceiling 2 ½ inches.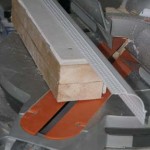 The bead was mitered with a miter saw.
Notice that I needed to block up the bead in order to get the miter angle  right.     A strip of drywall was added to the wall edge and caped with a bullnose L bead.  A crown may have looked nice in this corner but the L bead helped us stay within budget.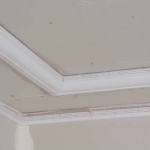 LIVING ROOM CEILING:  15' by26' For this simple design. I charged $10.00 a ft.     80 X 10 = $800.00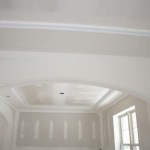 Materials:
•Drywall scrap but equivalent to 100 sq ft
•2 x 4's used as furring—mostly left over materials found in scrap pile.
•10- 8' studs
•Beads: Niche Bead; qty 8 – 10' lengths: Cost $25.00
Labor to fur, hang drywall, cut and attach beads and tape and sand= 10 hours
I don't know about you, but I don't like big open ceilings that are left just plain. So I think this simple look was a must. The edge was lowed 2 inches but with the niche style bead along the outside edge it looks even thinner. The  drywall had to be left about 5/8" short to accommodate the curve of the bead. Compound is applied to edges of the bead and taped and compound along inside corners .
DECORATIVE OUTSIDE CORNERS    
Extra cost will be in the bead itself which would average about 25 cents a ft ($2.00 for an 8 ft stick).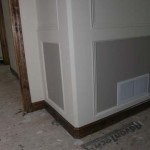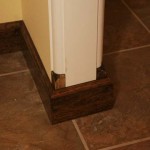 I typically charge $10 extra for each decorative bead installed. Often the drywall will have to be set back to accommodate the profile of the bead. If this was not done then the person attaching the bead will have to cut it back with a utility knife,which may take a minute or two. Not much more time is required to apply the compound to the bead edges. However sanding takes a little more time.  A wood adaptor piece was inserted behind the mitered baseboard to create a standard 90 degree transition. (photo to the right)
MASTER BEDROOM TRAY CEILING: 14' BY 15'      Typically charge about $12.00 a linear ft. 58 ft X 12= $696.00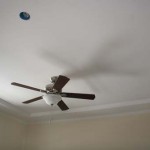 Used qty 7- 8' 2 x 4's for furring
Materials:
•scrap drywall equivalent to 120 sq ft of drywall.
•Bead:60 ft of chamfer stop for the narrow strip along wall angle: qty of 5 -10' pieces of tray ceiling bead: Cost $44.00
Furring, hanging the drywall, attaching the EZ Tray bead, and compounding and sanding took =   6 ½ hours.
The type of bead I used requires the ceiling edge to be lowered 2 ½" so I had used 1 ½ furring and then added 1 inch of drywall. The first layer just has to be a   narrow strip along the edges of the furring. Snap lines to attach the bead to and use spray adhesive and staples along the mud leg. The edge that fits against the upper ceiling has adhesive caulk applied to hold it tight against the ceilingadhesive caulk applied to hold it tight against the ceiling. After sanding and priming this upper edge gets caulked again to create a perfect transition edge. The mitered joints can either be cut to fit with tin snips of with a miter saw. Both edges can be mitered but I prefer to cut the first piece attached to length with a square cut. Then I miter the abutting edge. For a tighter fit I use a utility knife to bevel the back edge of the easy tray bead a little.
WAINSCOT ON WALLS:  Depending on how complicated the layout and design I get between $12 and $20 a lineal foot. Because of the extra work around the outside corner I charged $15. 58 ft X 15 = $870.00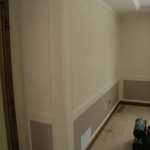 Materials:
•scrap drywall equivalent to about 60 sq ft of drywall.
•Used about 80 ft of decorative L bead; 60 ft of chamfer stop ;and 8 ft of chamfer bead: Cost $51.00
To build and tape= 8 hours
This was a pretty simple design. I wanted to divide each section into more panels,  but because the spacing of the electric boxes and heat ducts was not conducive to even spacing we decided to just frame each wall section with the one panel.
Just one layer of 1/2" drywall was used. It is glued and screwed into place. Any seams in the drywall are taped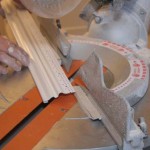 with fiberglass mesh tape prior to   attaching the beads. The beads were mitered just like wood trim would be. (A lot of lines are snapped to help assure straight lines).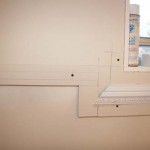 Joint compound is applied to the edges and then sanded. After the walls are primed then any gaps along the edge of bead are caulkedty knife to bevel the back edge of the easy tray bead a little.
ARCHES: I typically charge about $200.00 to build and finish an arch. No special framing required. Just hang the dryall over the openning and cut he drywall to the shape of the arch.  No need to use plywood or to cut out solid framing such as 2′ x 10's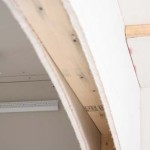 Materials:
•Used 16 ft of ¾" step a bull arch beads, 32 ft of ¾" Step A Bull beads: Cost $15
The shape of the arch is cut out on the drywall.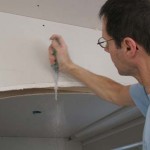 In this case I also had to bevel back the drywall to accommodate the curve the bullnose bead.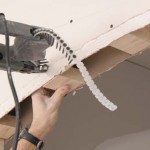 Then small  pieces of 2 x 4 are screwed into place along the curve.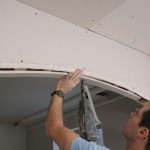 The drywall is then secured to this blocking.
The beads are cut to fit and then glued and stapled into place. Adjustments can be made as the bead is stapled. This is a very unique bead. The bullnose steps down about 6/16" on each side of the bead. This helps me create that custom millwork look. The reveal edge is also a nice place to change paint colors.
As you can see by the numbers I could charge less because I don't have that many hours or much cost in materials in each application.  But there is a high level of skill involved and it is custom work.  Building the ceilings arches and wainscot out of drywall and corner bead creates a very stable system. There is no movement, cracking, or shrinking of the materials. It is also a pretty green way to create these looks since scrap drywall and lumber are being used.
NOTE ON GREEN FACT : Approximately 12 percent of new construction drywall is wasted during installation.  In addition the drywall beads used were  made of 70% recycled content