One of my favorite magazine ads is of a drywall contractor standing in front of a couple who are his customers. He is gesturing toward a white painted wall that is completely bare. The caption reads: "MOST ART IS APPRECIATED WHEN IT IS SEEN -YOURS IS WHEN IT ISN'T"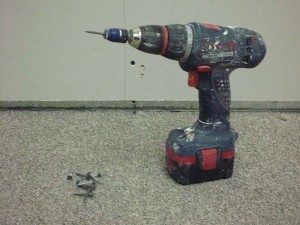 I recently had a general contractor ask me about a drywall job they were involved in. The house is finished and people have lived there a few months. He does not remember anything unusual when the drywall was hung and taped, but there are now thousands of screw pops.  These pops are along the edges and in the field, and on both interior and exterior walls, although worse on exterior walls. Some on the ceilings, but mostly just edges.
It takes about 46 screws to attach a 12-foot piece of drywall to a wall, and 54 to put it on a ceiling. The amount of drywall that a crew can hang in a day varies because of the crew's ability, the number of hangers in the crew and the type of job. Typically, we hang 4,000 to 5,000 square feet a day, which requires about 4,700 screws. That comes out to about 1,000 screws for 1,000 square feet of drywall. It is not uncommon to have a dozen or so screw pops in an average house but most of these are discovered and corrected by the tapers before the job is done. After a full year cycle of seasons a few more may show up but they are often left alone until the customer decides to paint. So thousands of screw pops is a serious problem. If it is the result of a very poor fastening job then it is difficult for me to believe that no one noticed the poor quality work as it was being done. In many parts of the country the hanging is inspected before taping can begin. The GC and the owner of the drywall company should also have caught the problem.
A screw is either set right or it is set w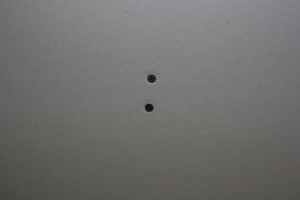 rong. Out too far is obvious and it can't be concealed unless you build up the compound and create a bump. Just a slight difference in a  screw set makes a difference.  In photo to the left: The lower screw is set just a little too deep and is more likely to pop than the upper screw. In too far is not as obvious. Most of the time if an occasional screw is set too deep it will not be  a problem because it is still holding the drywall tight and other screws in the area are also holding the drywall tight to the framing, so it will not show up when sanding and may never show up as a pop. But it is a week attachment and is more likely to pop if there is structural movement or an impact on the wall or ceiling. The contractor with the screw pop issue stated that anywhere he  pushed it caused screw pops. This indicates that the drywall is not tight to the framing. Perhaps the screws were so poorly set that the drywall was never tight to the framing which would mean than it was somehow taped and sanded and no one noticed that the drywall was loose. This would be difficult to believe. So maybe the drywall was not tight to the framing because the insulation was pushing out on the drywall so the screw did set and was finished without showing up as being loose, however the contractor stated ,the pops are everywhere, even on un-insulated walls. Maybe too long of screws were used. The screw should penetrate the wood about 5/8 of an inch.  A 1 ¼" screw is most commonly used for attaching ½" drywall.  I know this is more than 5/8" but I have never seen a 1 1/8" screw.   You might think that a  2" screw would be better but it is actually worse because it is harder to put in straight. So a screw set crooked will tear the paper on one side and be either too deep on the other or not deep enough. Also if the framing were too shrink a longer screw is more likely to pop.   Using drywall adhesive along with screws is a good idea because it does help reduce fastener  pops when the screws are improperly set or if there is minor structural movement. It also develops excellent shear strength and reduces the potential for bowing or sagging.  I like to use adhesive but it doesn't work over poly or Kraft paper insulation.  Personally,I have never had too many problems with screw pops if  I have done the fastening, but if some one else has done the fastening and  a lot of the screws are set a little too deep but the drywall has been glued then I am confident that I still will not get any fastener pops. So all in all I like to have my subs glue the drywall where ever they can.
When fastening drywall to walls I attach the drywall 16" on center.  Two fasteners in the field and one on each edge. Ceilings go 12 inches on center. Work across the panel by starting on one edge, then fasten across the center, and then the last edge. This allows the screw to pull the drywall tight as it is set.  Controlling temperature, humidity, and airflow before, during and after the drywall work is real important.  Believe it or not just bringing the drywall in ahead of time to acclimate (just like hardwood flooring) can help reduce problems that often appear within 24 hours of first turning on the heat.
I have never had thousands of screw pops.  I have had a few hundred a couple of times but most of the pops were along the top plate. I now recommend fastening about 7 inches down off the top plate to avoid this problem. I usually use drywall adhesive just because I try to offer my customers the best job possible. I didn't start using adhesive because I was having problems.  I started using it since I am always striving to meet or exceed my customer's expectations and to avoid problems instead of putting out fires.  Building a house or an addition is like putting together a chain, the links are all put together as the job progresses but the chain is only as strong as the weakest link.
In Conclusion:  It's a pretty safe bet that some sort of shrinkage occurred to have so many screw pops. Since it's uncommon to get that many pops, something unusual had to happen. I'm guessing that it's a rare combination that caused the problem, kind of like an accumulative error thing. The overall system can deal with one or two bad conditions, & still work with minimal pops. If this home had 3 or 4 contributing factors, then it was doomed. I'm thinking maybe the lumber had higher than normal moisture, the drywall had a somewhat soft core, the drywall got damp when stocked, the screws were set in a less than perfect method, & the pva paint trapped the moisture, only to work it's way out at a later than sooner point in time. Normally any two of these would be ok, but this is a rare case of an accumulation of problems.
How else could you explain severe popping not happening more often, since all of these factors are fairly normal?
© Myron R. Ferguson