The Radius 360 sander is one of the first tools I reviewed for Fine Homebuilding. I wrote this 2005 and the sander is still my favorite sander.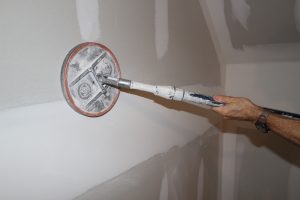 Radius 360
Sanding taped seams and fasteners on drywall is a necessary evil. The sanding phase is a vital part of any smooth finish drywall job. Sanding can make or break the finish job.
Sanding is hard laborious work that really isn't much fun and is not thought of as the most prestigious job. I like to think of sanding as the last step of the job. After cleanup I'm done and hopefully well paid for my efforts.
When most people think of sanding drywall they picture a pole sander with a rectangular head. The pole is nice because it helps provide the needed leverage to smooth out seams and remove excess compound around fasteners It also keeps the sanding head at a distance, so that the dust isn't falling directly into your eyes.
The rectangular sander is usually held at about a 45 degree angle to the seam or row of fasteners being sanded. This helps prevent the sander from catching an edge and flipping over. It also kind of erases it own tracks that are created by the straight edges of the sander.
If a sander flips over you are usually left with some digs and scratches that have to be repaired. If it is not held at the right angle tracks are often left where the edges of the sander has sanded into the compound. The sanding head is about 4" by 10" so the surface area in contact with the area being sanded is quite small.
I'm not saying that the rectangular sander is no good just that you have to be careful with it and make sure you are watching for any little problems. I have sanded hundreds of homes with this type of pole sander.
I recently started using a 9" diameter round sander and couldn't be more pleased. I believe that in time it will replace the rectangular sander as the sander of choice.
The Radius 360's sanding head is quite large so it covers a lot of area in a short time, so it is fast. The pivoting head is covered with a ½" thick foam disc. The foam and sanding paper is held in place with a hook and loop design. So they stay firmly in place and the foam and sanding paper are easy to change.
The pivoting head combined with the foam disc and round design makes the Radius 360 very difficult to flip over. This is especially appreciated when I sand curved surfaces such as a barrel vault ceiling. Also when I need to sand around a repaired electrical box, I can just change directions and sand in a circle around the box and then keep moving. I can change from side to side, to up and down, to a complete circle with no worries. The round design also erases its own tracks, so no more streak marks.
The tool was invented by a guy who sands drywall for a living. So if anyone knows what works and what doesn't he should.
The Radius 360 sander has "That Drywall Guys Seal of Approval"