Drywall panels are typically produced in lengths up to 16-ft and standard widths of 48 and 54 inches.  The long edges of drywall panels are tapered slightly to accommodate joint tape and compound.  The panel ends are cut square and finished smooth with the gypsum core exposed, and are thus un-tapered.  Similarly, whenever a contractor or other drywall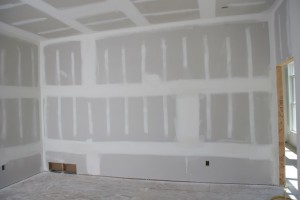 installer cuts a drywall panel, the cut edge is of course un-tapered. When professionals hang (attach) drywall, they are always thinking of eliminating unnecessary joints. WHY? Less seams to tape less potential problems. The tapered edge seams are designed to be easy to conceal. The recess allows room for the tape embedded in compound without creating a bump but still drywall contractors who care are even trying to reduce these tapered edge seams
This article is about butted seams which I personally have never been able to accept.
1)    My first rule is to try and avoid having any butted seams. This is done by using longer lengths of drywall. Rooms 16 feet or under should not have any butted seams. I do mostly residential jobs where the walls are traditionally hung horizontally, so if a wall is over 16 ft long it will have butted seams. Ceilings are hung perpendicular to joists of furring so if the room is over 16 ft long perpendicular to the joists then the ceiling will have butted seams. So sometimes the butted seam can't be avoided.
2)    Second I try and locate the butted seams in the least visible (easiest to conceal) location. This may be over or under a window header, over a door header, close to the perimeter of the wall or ceiling, and I often consider placement where the seam will be concealed by an open door or furniture when occupied.
3)    Third I back block all my butted seams with a RockSplicer ™ whenever possible. Back Blocking (a method of attaching additional framing to support gypsum board where no framing is present) is a proven practice that virtually eliminates the very real problems associated with butted seams in drywall.  The problems being the bump created when drywall is attached to standard framing and then finish taped and also the subsequent ridging and cracking of butted seams.
When it becomes necessary to butt the un-tapered ends of panels together, for instance on any wall or ceiling over 16-ft long, a butt joint is formed.  If no modifications are made and the ends are attached directly to standard framing, the seam that is formed is difficult to conceal.  The main reason for this is that the cut drywall edge at the seam is not tapered at all.  Once joint tape and compound are applied, a slight bump is formed and even a highly skilled professional has a difficult time hiding the joint, particularly under certain lighting conditions. Additionally building materials expand or contract as the temperature and humidity inside a building change.  As the building materials move, tension builds up against the drywall panels.  The tension is relieved as the panels bend outward usually at a joint.  This ridging can occur in regular tapered edge seams; however it is much more common in butted end joints. This is because the butted seam is attached along a single stud or joist which is typically only 1 ½ inches wide. The screws are often angled somewhat and are too close to the drywall edge which damages the drywall core and weakens the attachment.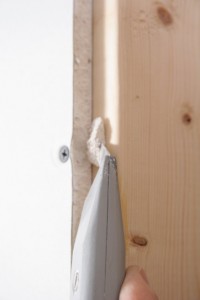 Butt seam first panel attatched to stud.
Screw had to be located close to drywall
edge and as a result drywall core was damaged.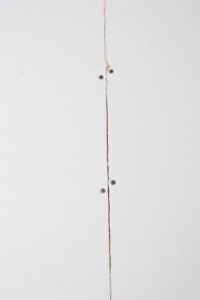 Adhesive was used to help stabilize the seam but it will still be a bump when finished.
The back blocking device that I have been using for years is called a RockSplicer ™ and is made by Wilco Tool( www.wilcotools.com). It is designed to minimize ridging in the first place by allowing butt joints to readily be placed between framing members, and to pull the drywall in slightly along the joint to compensate for the absence of tapering along cut drywall ends.  The device and method also makes it easier to form a good finished surface over a twisted stud or joist.
The combination of the seam being essentially a floating seam and also being pulled in is what greatly reduces joint ridging. NOTE: The seam is intentionally floated between the framing close to the center of the wall or ceiling cavity. It does not occur only when the seam falls by chance between the framing.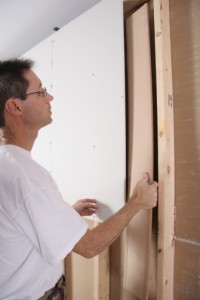 The first sheet of drywall was cut so that the seam is located between the framing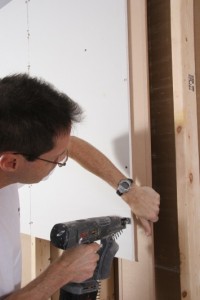 The RockSplicer is then slid behind the seam and attached by screwing through the drywall and into the RockSplicer along it's center.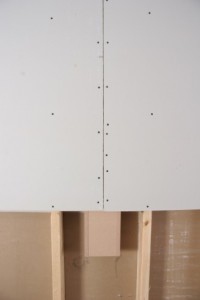 The second panel is attached to the RockSplicer. As it was fastened the drywall was pulled in slightly because of the slightly raised edges of the RockSplicer.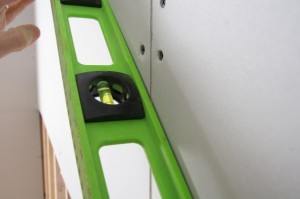 The recess is evident when a straight edge is placed over the seam.
In the USG Handbook there is a section where back blocking is discussed and a method that USG developed is described, along with a list of benefits. www.usg.com.  I have installed thousands of manufactured backblockers over for years with excellent results and have eliminated any problems I previously had with butted seams.  Having a back blocking device such as the RockSplicer ™ , which is a proven performer, to use behind all my butted seams has been a great attribute to my Drywall Company. It eliminates one of the last major problems with drywall finishing: "The Butted Seam"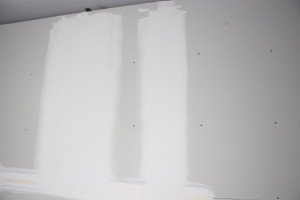 The butted seam on the left (attached to framing) is finished over 30 inches wide and is still a bump. The seam on the right (attached to a RockSplicer) is a flat seam finished 12 inches wide.
Below are results of some cost analyst I did a few years ago. I have mixed feeling about talking about cost because I believe that even if it did cost an extra 4 dollars per seam that is irrelevant because long lasting quality is what a professional contractor should be concentrating on. I also hate having to go into my talk about offering quality and being a step above the competition and so on and on. But for whatever it is worth here is the cost analyst.
Results of comparison of regular butt seams and butt seams with RockSplicers installed
Variables:  $15 a bucket for compound
$25 an hour for labor
hand taped (average of 12 seams).
Used lightweight compound.
Regular Butt Seams:
Time:               6 min               $2.53
Compound:     3.5 lbs             $1.30
Width:        32-in                     $3.83
RockSplicer Seams:
Time:               2 min 12 sec                $ .92
Compound:     .70 lbs                          $ .26
Width:             12-in                         $1.18
 
Cost Difference:
Regular Seam                                       $3.83
Back blocked seam                              – $1.18
Money saved                                         $2.65

Cost Of RockSplicer                     $3.75
Less Amount Saved                          -$2.65
Adjusted Cost                                  $1.11
Each RockSplicer cost $1.11 to install and finish. "A Small Price To Pay For The Improved Quality"
Other factors to account for:
Flat butted seams instead of bumps (can achieve a true level 5 finish)
No  call backs for poorly concealed seams or ridged seams
Reduced  drywall waste
Showing the customer that you will be using the RockSplicers will help you land the job.  All in all it is about doing quality work.  For more information go to www.wilcotools.com
© 2013 Myron R. Ferguson